Barima Sidney's controversial song 'Papa No' may be hit with a court injunction as an individual identified as Abdul Ganiu Issaka has asked the High Court in Accra to restrain Barima Sidney from releasing the music video of the song.
The plaintiff in an interview with Adom FM disclosed that the video for Barima Sidney's song seeks to drag former President John Mahama's name into the mud.
He added that his team is seeking an order for an "interlocutory injunction" to be placed on the video for the musician's controversial song.
"That is why we have been forced to take injunction from the court this morning to stop him because the video is set to be released," Mr Ajikor disclosed.
-----------------Promoted Content--------------------
Are things happening to you that you can't explain? Well maybe someone put a hex on you? Do you feel you are stuck in the wilderness in a situation that appears hopeless? Do you have many enemies some enemies you are not even aware of? Are you having many obstacles in your life? Is your love life falling apart? Is your life facing financial ruin? Call Doctor Mugwenu on: +254740637248 website
www.mugwenudoctors.com
-------------------------------------------
Mr Ajikor added that Barima Sidney is making noise but begging behind closed doors for the music video to be released.
'Papa No' became a popular phrase during Tracey Boakye and Mzbel's feud.
Many names have popped up as the 'papa no' or the supposed Sugar Daddy Mzbel and Tracey Boakye are fighting over.
Notable among the names was ex-president and the flagbearer of the main opposition National Democratic Congress(NDC), John Mahama.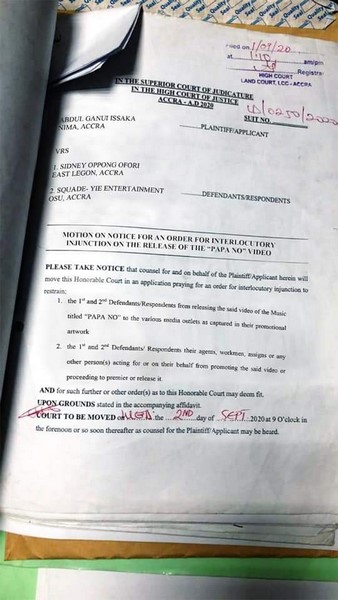 The injunction will restrain the defendants (Sidney Oppong Ofori and his Squadie Entertainment) from releasing the said video to various media outlets.
The injunction will also restrain the premiere or promotion of the video.